Disclosure by Presenter/Author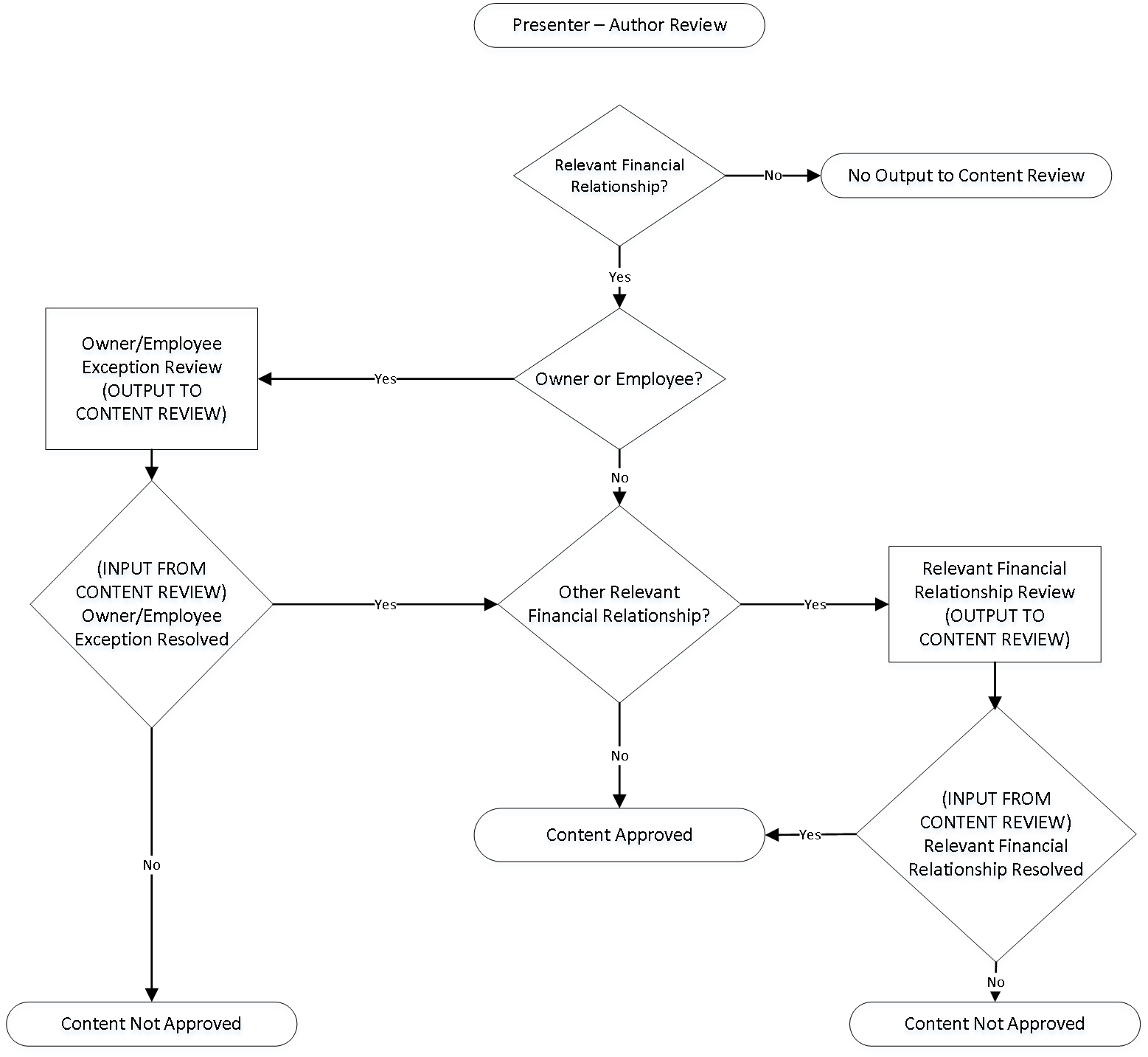 All presenters/authors must disclose any financial relationship that has occurred in the last 24 months. These disclosures should take place as early as possible in the accreditation process. Any person disclosing an actual financial relationship, must have that relationship reviewed to be certain that it does not represent a conflict of interest in any of the content that they present/author. The conflict of interest review must also take place prior to final acceptance of their content. The review must follow the established PeerPoint review process.
Regardless of financial disclosure status, all content produced or presented by authors and/or presenters must be reviewed by a medical reviewer to ensure no evidence of bias exists and that the content is medically sound. Where any evidence of bias was found by the medical reviewer, then the content was revised to the satisfaction of the medical reviewer, and to PeerPoint. Content not meeting this requirement was not accepted for presentation at the activity.
Is the Presenter/Author an owner or employee of a ineligible company?
If no, proceed to Other Relevant Financial Relationship process.
If yes, review according to ACCME exceptions:

Is the content of the CME activity related to the business lines or products of the owner/employee? If it is not, the team member may participate.
Is the content related to basic scientific research, or processes/methodologies? If yes, the team member may participate.
Is the employee a technician planning or editing content on the proper use of a device? If yes, the team member may contribute.
If none of these conditions are fulfilled, the team member may not participate.
Are there other relevant financial relationships?
If Yes is the presenter/author's content must be reviewed by a qualified medical editor.

If there is potential bias, can the presenter/author must edit the content to remove the material that present potential bias.
Once the content has been edited, a second review takes place. If the content still contains potential bias, the content may not be presented at the educational activity.